Design
Casablanca's $18,000 ping-pong table is pastel perfection
Until you realize its matching paddles are sold separately for $465 apiece.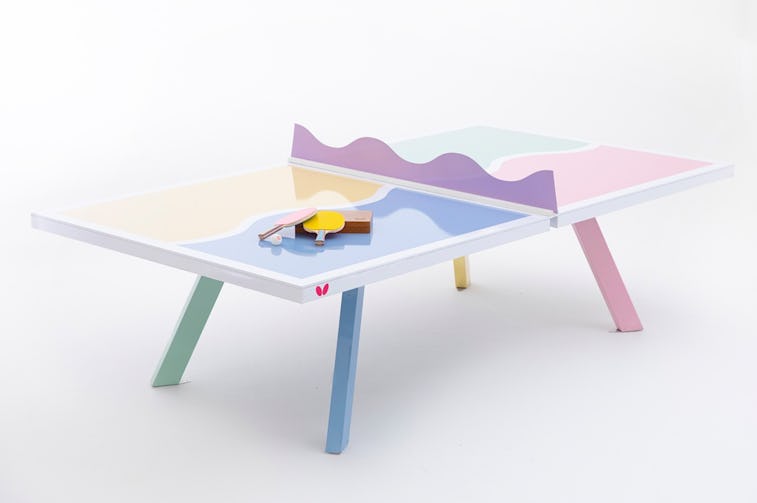 Casablanca
Luxury equivalents are available for nearly every type of item if you're above a certain tax bracket. With cash (and perhaps dignity) to burn, you can splurge on a $1,300 jump rope, a $90,000 Supreme trailer, and even four-figure camping gear. Nothing may bring more joy, however, than an $18,000 ping-pong table and its matching paddles — the latter of which is sold separately for $465 each, of course.
Designed by Casablanca — the luxury house behind an early New Balance collaboration that helped spearhead the shoemaker's comeback — the ping-pong table was built in partnership with professional table tennis equipment brand Butterfly, meaning it isn't an amateur player's table. Serious ping-pongers can indulge in the International Table Tennis Federation-approved field of play with a scratch-proof and anti-skid top, although we'd suggest any genuine player forgo the five-figure table in favor of a regular Butterfly one (or this more hype Supreme version). Going off the table's eclectic look, it's safe to assume buyers are more interested in its design than using it to hit some balls around.
Game on — As part of Casablanca's Spring/Summer 2022 collection, the ping-pong table flaunts a myriad of seasonally-appropriate pastel hues including blue, green, yellow, purple, and pink. Its design blends creative director Charaf Tajer's memories of traveling to Japan with elements of the Memphis design movement, as well as the label's love for pastel colors. Casablanca in itself is contemporary, "respecting the past and future," Tajer told Input in a previous interview.
Casablanca
Casablanca
Casablanca
Both the tabletop and its legs come divided into four shades, with each section separated by a wavy white trim. An equally curvaceous purple panel sits at the center of the table in lieu of a net, further emphasizing the furniture's look, don't touch design. Matching pastel paddles feature rainbow wooden handles and arrive alongside wooden display boxes.
Extremely limited — Like most luxury items — especially ones of this size — the full table tennis set will be carried through a limited number of retailers, the main one being Japan's GR8. As one of the few to stock the furniture, GR8 teased the table with an introductory video featuring table tennis players Jun Mizutani and Maharu Yoshimura. Whether the table's buyers will make the same use of its ping-pong features is uncertain (but unlikely).
To get your hands on the table and its individual paddles, you'll have to apply through GR8's newsletter for access to the sales. The table will be released on June 18 for $18,000 while paddles will be sold separately on June 20 for $465 each. Purchasing them may be the most balling out its owners do.