Culture
Anna Sorokin hopes to part with scammer identity by... pivoting to NFTs
In a bizarre interview with NBC, the well-known con artist is taking advantage of her Netflix limelight.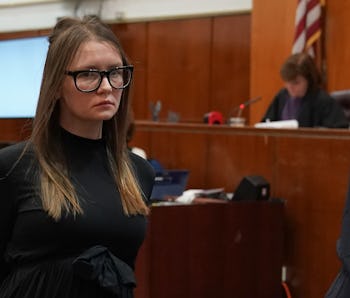 TIMOTHY A. CLARY/AFP/Getty Images
Maybe you've heard the Anna Sorokin story — or rather, the Anna Delvey scam saga. Sorokin captured the cultural discourse in 2019 while under trial for varying degrees of grand larceny and theft of services after pretending to be a German heiress named Anna Delvey. She was ultimately convicted in New York City Criminal Court on eight charges. After being sentenced to 4-12 years in state prison, Sorokin was released on parole in March 2021, only to be taken into custody by Immigration and Customs Enforcement (ICE) for overstaying her visa.
Now, recording live from her ICE detention center, the German-born 31-year-old, announced plans to embark on an NFT project during an exclusive interview with NBC's Savannah Sellers.
In what can only be described as one of the strangest Zoom calls to take place this year, Sorokin under harsh fluorescent lighting and framed by a blurred background outlined her intention to distance herself from the public scammer perception by diving headfirst into an NFT project called "Reinventing Anna." A total of ten NFTs will be minted and some of the perks of the rarer-tiered tokens will provide users with the opportunity to meet Sorokin in real life.
All press is good press... I guess? — Despite going to Rikers for two years, Sorokin's time in the limelight has certainly paid off. According to the New York Times, Netflix apparently doled out $320,000 to use her scamming escapades in a series that hit the streaming service in February entitled Inventing Anna (sound familiar?).
While in custody with ICE, she managed to get a collection of drawings she completed while incarcerated into an art show that was built around her scamming persona and appropriately titled "Free Anna Delvey." Each of her works were being listed for $10,000 and the show was co-curated by Alfredo Martinez, someone who served two years of prison after forging and attempting to sell Jean-Michel Basquiat paintings.
Even during her trial, Sorokin was being styled by Anastasia Walker, and got Miu Miu fits off. Sorokin's grifts are fairly uninteresting, largely because the crimes themselves were not that egregious — she effectively swindled $275,00 from major financial institutions and other wealthy, friends — but also because the ultimate vision for her scams was cliché and unambitious.
If you're going to capture the attention of the world off the back of your deception, at least push the narrative that you can revolutionize medicine or something, like Elizabeth Holmes and Theranos. Instead, Sorokin is just another person who wants to exist in elite social circles, where bottle service is an afterthought and the vintage Chanel changes week-to-week. Yawn.