God save the teens
Instagram hopes video selfies will keep underage users off the platform
The platform is partnering with AI company, Yoti, to roll out age verification software.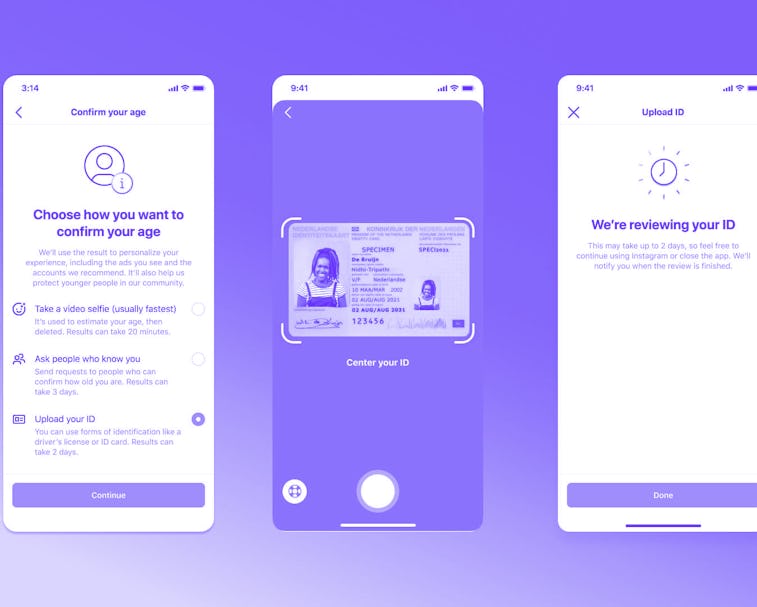 Instagram announced it will start testing video selfies for age verification in partnership with British digital ID startup, Yoti, which sells an AI software used by German and U.K. governments.
How it works — When an Instagram user attempts to edit their birth date on the service to be 18 or over, Instagram will require them to verify their age in one of three ways: uploading an ID, getting three adult friends to vouch for your age, or uploading a video selfie.
Once Yoti verifies your video selfie, Meta says the data is deleted. According to the companies, the technology cannot recognize identities. If users choose to show ID, the platform will, Instagram say is will store a picture of the credentials for 30 days.
See for yourself — It's quick and easy to try out Yoti's age estimation to see how (in)accurate it is. For me, at least, its age range estimation wasn't particularly close, and I got slightly different results each time I tried. Yoti says that its AI is usually off by 2.96 years for 6-70 year olds. So it's certainly not foolproof. Presumably, a tween who really wanted to get on Instagram could simply try out a few different angles and lighting setups. Like many artificial intelligence programs that deal with faces, it works best on light-skinned males even though Yoti says that its dataset was trained on "anonymous images of diverse people from around the world who have transparently allowed Yoti to use their data."
To comply with federal law, Instagram and Facebook must require that their users are at least 13-years-old, but the platforms have been able to simply look the other way without scrutiny. Now, in light of increased awareness of social media's potential harm to young users, Instagram is becoming more deliberate about its age controls. In 2021, it started requiring users to enter their birthdays. Before that, it offered an option to report underage accounts, and it even used AI to estimate age based on happy birthday posts.
God save the teens — Instagram's additional protections for teens have been fueled by The Wall Street Journal's scathing report in September 2021 detailing Facebook's internal research into Instagram's toxic effect on teen girls. The subsequent frenzied media attention and Congressional hearing put a spotlight on Instagram's treatment of teens.
Earlier this spring, Instagram prevented adults from sending messages to people under 18 who don't follow them. And last month, Instagram started making "private" the default account setting for people under 16.