Over the top
Devon Larratt and the dramatic rise of arm wrestling YouTube
On the eve of the biggest match of his life, the champ reflects on the video platform's role in making him a star.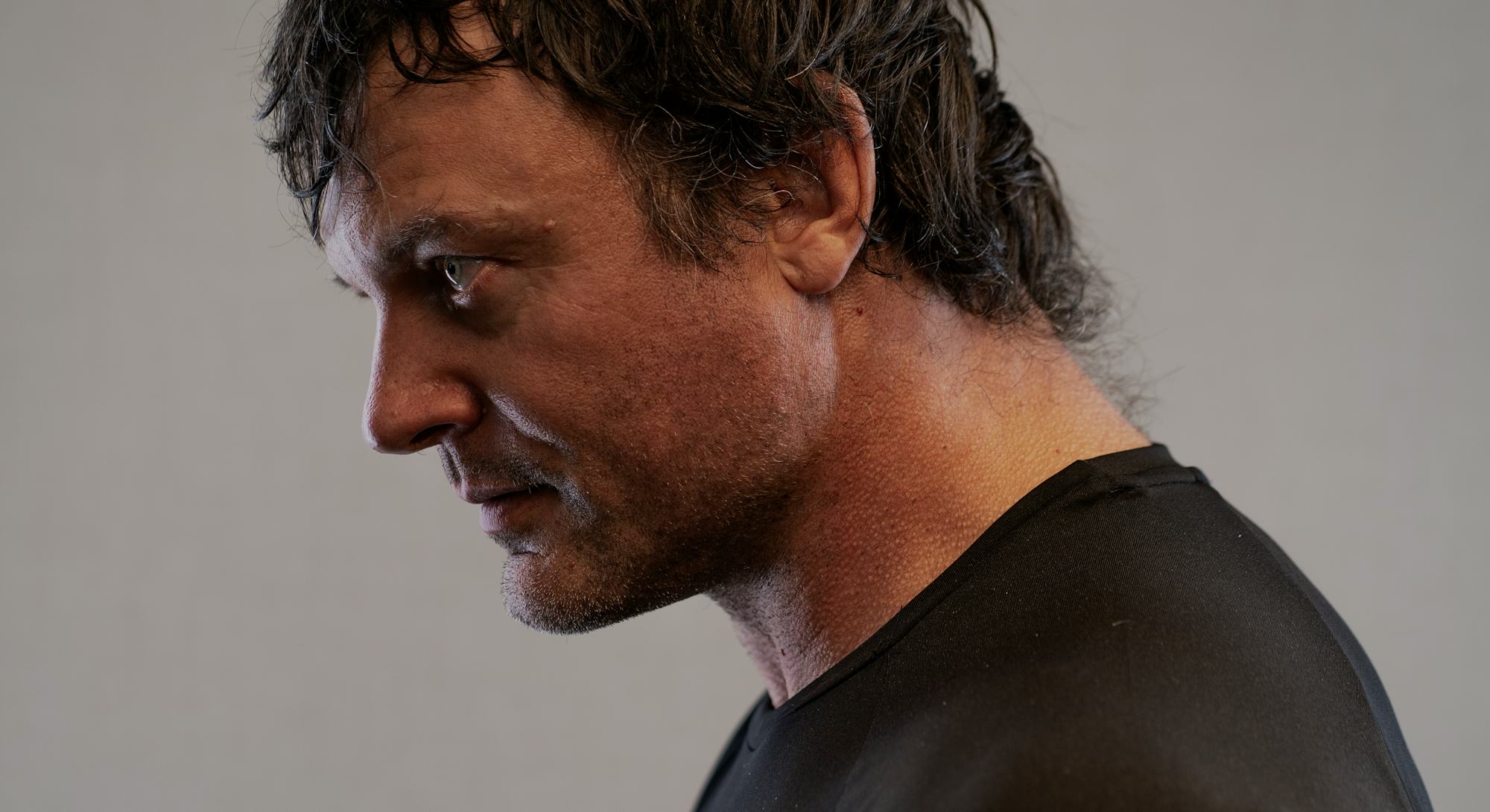 Courtesy of Core Sports
Devon Larratt, who is 47 and weighs 293 pounds, is getting ready for the biggest arm wrestling match of his life.
It's been a long time in the making. Larratt started arm wrestling when he was five, under the pupillage of his grandmother, who was — according to family lore, at least — the arm wrestling champion of Alberta, Canada. If Larratt did his chores, his grandmother would reward him with training time. He still has fond memories of going out to pick apples each summer; in return, his grandmother would bake apple pie, and they'd arm wrestle.
Larratt began competing as a professional arm wrestler at the age of 18, pulling in sponsorships and accolades while serving full-time in the Canadian armed forces. He became heavyweight right hand world champion in 2008, heavyweight left hand world champion in 2010, and was the first person in modern history to hold both titles at the same time after the latter win.
Larratt has won 54 of the 63 major matches he's competed in since 1999 — often claiming right and left hand champion titles in the process — and currently holds the "legacy hammer," a trophy that seals his status as the best arm wrestler in the world.
The last few years have seen a dramatic rise in Larratt's fame, and a lot of that attention comes via his YouTube channel, which he started in 2009 to help get more people into the sport. He currently has 464,000 followers, almost quadruple his following in 2019.
"Arm wrestling has always been around — it's kind of like cockroaches or mushrooms. It's got to be one of the oldest sports in the world," explains Larratt, who is now retired from the armed forces and a full-time arm wrestler based in Ottawa, Canada. "On YouTube, in 2017, there became quite an appetite for it."
Many of Larratt's matches — with famous figures like Shaquille O'Neal or Icelandic strongman and Game of Thrones star Thor — have been viewed tens of millions of times on the platform. A montage of his best arm wrestling moments has drawn in 74 million views in the last two months. "Now YouTube is one of the biggest platforms for our sport," Larratt says. "It's really taken off, especially during the pandemic. Viral videos have gotten a lot of reach."
The sport's heightened profile has landed Larratt a unique opportunity. Tomorrow, June 25, he'll be facing another heavyweight in arm wrestling, Levan "The Georgian Hulk" Saginashvili, largely considered the best in Europe, in a King of the Table match livestreamed from Dubai on pay per view. It's being billed as the largest — and most important — match in arm wrestling history.
"This is, without a doubt, the biggest match of my life. This is the undisputed number one in the world," says Larratt of his opponent. It won't be easy. "He's the strongest dude we've ever had in the sport," he adds. "Four hundred and fifteen pounds of arm-wrestling specialist — his forearm is two inches bigger than my upper arm. But I've been wrestling way longer than he has. I'm way dirtier and trickier."
Larratt is one of several professional arm wrestlers who has found fame on YouTube, where the sport has been reaching millions of people each week. The community is harnessing the power of social media to bring its sport to the masses and is waiting with bated breath to see whether Larratt will win his match, a victory that could send arm wrestling YouTube over the top, bringing the sport to even more people in the process.
Arm wrestlers' pivot to YouTube, according to those in the community, was one that sprung from a passion for sharing rather than a desire to make money. "I made $34 total revenue on YouTube in my first four and a half years of content. And I made just as much content back then as I do now." says Ryan Bowen, a 37-year-old professional arm wrestler from Australia — where he is ranked first in the country for his arm wrestling weight class — with more than 70,000 followers on his YouTube channel.
In the early days, Bowen's friends and family would laugh at his career in arm wrestling. But the pandemic changed everything. "They couldn't put events on, and it forced athletes everywhere to take charge of their own brand," he says. "So, over the last two and a half years, we've seen a big transition towards social media revenue spaces."
Bowen splits his videos into two categories: There are the ones that follow his training program and journey as a professional athlete, and those in which he commentates on the sport. Now he makes $16,000 AUD ($11,000) a month in YouTube revenue, an income he supplements with the arm wrestling merchandise and training equipment he ships all over the world.
"Four years ago, I could have counted on one hand how many people genuinely did arm wrestling and nothing else," he says. "Now I don't know the numbers."
Larratt has also been thrilled with the way YouTube has changed the sport. "As a result of YouTube, I can basically do whatever I want — compete here, train there, go meet these athletes. If I bring my phone with me, it's all covered," he says.
Larratt is able to live, in part, off sponsorship and ad revenue from YouTube, although he does not consider himself a full-time vlogger. He also sells arm wrestling merchandise and has an app, Armbet, aimed at aspiring arm wrestlers, and regards these opportunities — largely made possible by social media — to be "really quite a gift."
According to Michael "Monster" Todd, a 49-year-old professional arm wrestler with 94,000 subscribers on his channel, Monster Michael Todd, YouTube is not the only platform where arm wrestlers are thriving. "In 2021, we did 16 million views on our YouTube platform. We've been doing Facebook since November, and we've almost done 70 million views," he says.
He says his videos — which have titles like "ArmWrestling Champion and Grandpa takes on the Entire Strength Cartel!" — draw in a rather homogenous audience. "My YouTube and Instagram are 96 percent male," he says. It's something Larratt has noticed, too. "It's mostly dudes. Like 99 percent dudes. But you've got all sorts, young and old, because people find it and get hooked," he says.
"There's something that appeals to them. It's a very simple thing — it's very raw," he continues. "We've all done it. And the first time we see it, we're like, 'Wow, this can actually be a thing? I thought this was something we just did on lunch tables!'"
Trash talk
Although athletes in the professional arm wrestling world are delighted with their newfound fame and fortune, it does come at a cost. Their heavy presence on social media leaves them open to a plethora of abuse.
Todd tells Input that he was the most hated man in the sport after he beat Larratt in a 2018 match, ruining Larratt's multi-season run of wins in the heavyweight category. "He was the hero of the sport, because that's who people knew. So, when I beat him, I must have cheated him," Todd says.
The haters can get personal. He's faced abuse over everything from publicly displaying love for his wife to the length of his majestic beard, but he isn't too worried about his detractors. "There's never been a single person who ran their mouth on social media that I've confronted in person who said the same thing to my face," he says with a laugh.
"People threaten my family and want to come to my house. It's vicious."
Larratt, who often uses social media to strategically trash talk his opponents ahead of matches, has also been on the receiving end of abuse for his pre-fight antics. "I'm really not that much of a dick, but if you didn't really know me, you might think I'm one — and people get rough. People threaten my family and want to come to my house. It's vicious," he says.
His recent comments about his upcoming opponent Saginashvili — whom he called a "415-pound pussy" in a YouTube video for trying to change the rules of their match — were not taken lightly. "It's really been downhill from there," he says. "There were passive death threats from his countrymen and a lot of threats of violence, like, outside of the arm-wrestling table." (Saginashvilla's YouTube channel has not been updated for a month. His last upload, which showed him training for his match against Larratt, is titled "Georgian Hulk is Angry!")
Still, Larratt recognizes the benefits of stirring the pot and embracing WWE-style drama. "The thing I've noticed is, for it to really work, there has to be an agitator. There has to be someone who's being the villain," he says. "That's where you get your best responses, when you're pissing a certain degree of people off. People will tune in when they like you, but the people who hate you actually tune in more."
After considering his strategy, Larratt has a slight change of heart. "Pissing people off, it's actually really fun to do," he laughs. "So maybe I am a dick, but certainly promoters love it."
It's a fair assessment. Bowen — who helps promote matches, including the one Larratt is about to compete in — says that 200,000 people are expected to tune in on June 25, although he claims he'd be "killed" for releasing the amount of money made on the match or offered to those competing in it. (Don Idrees, CEO of Core Sports — the company organizing the match — tells Input that IRL VIP tickets are sold out, regular tickets are 60 percent sold, and the match is on track to break all previous arm wrestling PPV figures).
Despite all the hype, Bowen doesn't think Larratt is going to win. "I hate to say it, because Devon winning is the best thing that could happen for this sport. He's Muhammad Ali, and Saginashvili is George Foreman. No one thinks Devon can win," he says.
Bowen adds that dedicated fans will be "pleased" with his assessment, as he's well-known for his terrible skill at predicting match outcomes — and deep down, he's rooting for Larratt anyway. "Every part of the boy in me wants to see the hero, the underdog, the impossible being achieved," Bowen says. "If anyone can do it, it's Devon."
Larratt knows the odds are stacked against him. "I'm the underdog for sure. But at the same time, I just don't know if Saginashvili could beat me. I'm really good right now. I'll get more and more confident as the date draws near," he says.
Larratt's growing confidence shines through on his YouTube channel, where he's trashed pre-match analysis videos, including Bowen's, in a clip entitled "some garbage." He's been all smiles, however, in videos he's uploaded since landing in Dubai — which have included some thinly veiled gibes aimed at Saginashvili.
Larratt is predicting a "wild" match against Saginashvili "because I think he really hates me." He adds, "But I think the rules for this match are in my favor — and I think that, if I beat him, it'll be a very good day for arm wrestling."