Humane Teases AI Pin Announcement on the Day of the Next Solar Eclipse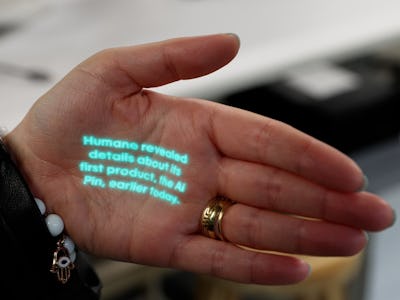 Imran Chaudhri / Twitter
There is still so much we don't know about Humane's "connected and intelligent clothing-based wearable" a.k.a. Ai Pin. Hopefully, everything becomes clear on October 14, 2023 — the day of solar eclipse.
In a video posted to Humane's official Discord channel, Humane chairman and president Imran Chaudhri and co-founder and CEO Bethany Bongiorno, teased more info to come on the AI-powered device that can project an interface onto the palm of a hand.
"Can't wait to show you more in just a couple months," Chaudhri says. "There's an incredible celestial event that's happening in October, an eclipse. Eclipse is an important symbol for us. It's a new beginning. That's what it means. And it's something that the whole world notices and comes together and we certainly are looking forward to being able to have a special moment on that day."
"There's also been a ton of excitement about what we're building and we are at the point now we're at the final stages, which is incredible," Bongiorno adds. "We can't wait for all of us to be able to walk down the street and see people using what we've built."
Humane has somewhat of an obsession with eclipses. Chaudhri first unveiled the Ai Pin (though, not the name yet) during a TED talk on April 20, which also was a day of a hybrid solar eclipse.
An announcement on October 14 aligns with the company's earlier plan to begin taking orders "later this year."
"The device is incredibly well crafted. The laser is objectively cool," said Sam Sheffer, the company's head of social new media. "Having a laser project UI from your chest into your hand is inherently unique compared with the devices we all have and use today. It's something we think is a viable way to interact with ephemeral interface elements."
Answers to Burning Questions
Humane's Ai Pin has been generating an overwhelming amount of excitement for a number of reasons, Mainly, Chaudhri and Bongiorno are both ex-Apple veterans, who worked on the iPhone, iPad, Apple Watch, and more. Leading product engineering is Ken Kocienda, also an ex-Apple vet; you may know him as the person who designed the original autocorrect keyboard for the iPhone. But also because Humane's pitch with the Ai Pin is to help curb technology addiction and help us be more present again.
In the TED talk unveiling, Chaudhri showed off a variety of ways the standalone (read: no phone tethering required) Ai Pin could unglue us from our phones. Using AI, the device can act like a personal assistant, providing summaries of important emails and notifications, translating your voice in real-time, scanning food labels, and more.
It was an impressive demo. Maybe too impressive.
That being said, Humane is still keeping quite a few cards close to its chest. We don't know how much the Ai Pin will cost. The startup hasn't shared details on how the device attaches to clothes (everyone is guessing magnets). We have no idea what battery life is like; it needs to be really good if you're to go about your day without your phone or smartwatch. The list of unanswered questions goes on and on.
For everyone's sake, we sure hope the information drip feed and teasers end on October 14.