Analogue's Next Limited Edition Pocket Game Boys Are a Blast From Nintendo's Past
The colors are the same ones from old Game Boy Pocket and Game Boy Advance handhelds.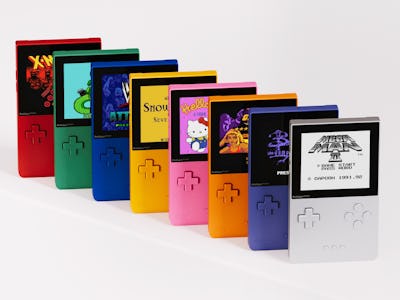 Analogue
I am so sorry that you will soon be broke after spending all of your savings on yet another limited edition drop of Analogue Pocket Game Boy handhelds.
Analogue's new set of "Classic" Pocket colors pay homage to official Game Boy Pocket and Game Boy Advance shades. Those colors are blue, green, indigo, Spice Orange, pink, red, silver, and yellow.
I didn't think Analogue could top the seven transparent Pocket handhelds or the glow-in-the-dark model, but here I am, drooling over another batch.
As with the previous two limited editions, the "Classic" Pockets will go for $249.99 ($30 more than the black and white version). Orders start on November 17 at 11 a.m. ET / 8 a.m. PT with shipping on November 20. At this point, you probably don't need me to even tell you that these will be available in "highly limited quantities" and "will never be sold again."
For those who are new to the Analogue Pocket, here's the 311 on the handheld. Released back in December 2021, the Pocket reimagines what a modern Game Boy would look like had Nintendo never moved on to the DS. The handheld has a high-res 3.5-inch LCD display, a rechargeable battery that's good for up to 10 hours of playtime, a USB-C port, and a slot that takes original Game Boy, Game Boy Color, and Game Boy Advance cartridges. Adapters (sold separately) can be fitted to play Game Gear, Atari Lynx, Neo Geo Pocket, and Neo Geo Pocket Color cartridges.
The Pocket's hype has everything to do with its high-resolution display. It's capable of displaying games in a sharp AF 1,600 x 1,400 resolution at 615 ppi and there are built-in display filters that can replicate the original look of past Game Boys and game systems. For example, there's a display filter that emulates the original Game Boy's pea-green aesthetic and one that outputs games in the Virtual Boy's all-red palette.
Other neat features include support for Link Cables (original ones or Analogue's own) and the Analogue Dock, which essentially turns it into a console when it's connected to a TV or monitor. Tinkerers and DIYers have reason to appreciate the Pocket, too. The handheld's openFPGA technology allows for homebrew games and software, game preservation, and more.
Gotta Collect 'Em All
By my count, the Analogue Pocket now comes in 18 different colors; bet on more limited editions dropping in the future.
Naturally, collectors are going to be all over the "Classic" Pockets. I fully expect bots to beat humans to snatching these handhelds. Your best bet is to have details at the ready with autofill, and then pray. Pray really hard.
If you still end up failing to grab one come November 17, there's always places like eBay where scalpers will no doubt charge double or triple. Or wait for the next round of limited edition Pockets. There's also Ayaneo's upcoming Pocket DMG, which is expected to be a Game Boy-esque handheld with a joystick.