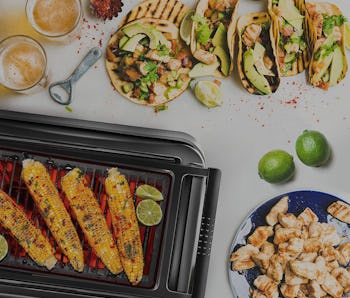 Innovation
This Smokeless Indoor Grill Can Extend Your Summer
Cold weather doesn't have to stop you from grilling any more.
Amazon
Welcome to fall. When the leaves turn pretty colors, the weather starts to get chilly, and people take their culinary exploits indoors after a summer of grilling. Sure, the scent of classic fall foods bubbling in a slow cooker can be enticing, but nothing quite lives up to the glory of the grill. Too bad you have to wait till next year for that… or maybe you don't. Modern smokeless indoor grills claim to not only replicate the outdoor experience, but do so with less mess—and in less time. We put one of the latest to the test.
The Grill
The Chefman Smokeless Electric Indoor Grill is a 1650-watt infrared appliance that you plug into a normal AC outlet. You don't need gas, or to make any further connections. Just plug it in to the wall and grill away. The grill utilizes modern carbon fiber construction, and offers two heat settings: one for grilling (450 degrees) and one for keeping food warm (200 degrees). The grill surface measures 14 inches by eight inches, which feels about right for handling most individual grillable items without becoming too large for indoor use. It's not as big as a typical outdoor grill, however, and can't handle really large roasts or large numbers of food items at once for a big group. The grill grate and drip pan are both dishwasher-safe, and the grill surface is non-stick.
Setup and Use
Setting up and using the The Chefman Smokeless Electric Indoor Grill couldn't be easier. You literally just plug it in and turn it on. The very short cord can be a little annoying, but it's also a safety feature. Chefman does recommend washing the grill grate and drip pan before first use, but that's really the only thing you have to do before putting it into action. Once turned on, the heating elements get up to temperature almost immediately, and the grill itself is ready to go in a little over five minutes. Way easier than building a charcoal fire outdoors! After that, using it is pretty much just like using any grill. You put your food on it and watch it cook.
Performance
We tried a wide variety of foods on the Chefman Indoor Grill, including plain and marinated vegetables, hot dogs, steaks, salt and pepper shrimp, and three kinds of marinated Korean barbecue meats. When first turned on, the grill seemed like it wasn't doing much. But after five to seven minutes, it definitely started sizzling when food was placed on it, and the sizzling effect got more satisfying and pronounced with each subsequent round of items. Generally, the food cooked much like it would on any other grill, and the grill produced excellent grill lines, giving the finished products that authentically grilled look. They say you eat with your eyes, and we felt pretty smug when we posted our grill trophies on Instagram in a shallow effort to make our friends jealous.
The flavor of the food we cooked didn't have the smoky aspect of a charcoal grill, but most people use gas grills these days, and this certainly didn't deliver any less flavor than that. Once hot, the grill offered very even cooking, with all areas of the cooking surface giving surprisingly consistent results, even right to the edges. We found that it was easy to get the internal temperatures right, with almost nothing burning or getting overcooked. Cooking times were quite fast, and we were impressed by how quickly and perfectly both vegetables and meats came out. While not completely smokeless for every item, there was less smoke than when cooking things in a frying pan, and so little that it wouldn't set off even a fairly sensitive smoke alarm. In all, we'd say that this grill delivered on smokelessness more than we would have expected, and also produced good results regardless of the amount of fat used on it, making it an excellent way to grill healthy items as well as more decadent ones. As an added benefit, the handles stayed cool no matter how hot the grill surface got.
Cleanup
The Chefman Indoor Grill's removable grill grate has a thick non-stick coating, and can be cleaned with regular soap and water. Most burnt-on food bits came off with almost no effort. Even better, the grill grate and drip pan are both dishwasher safe on the top rack, so if you're as lazy as we are, you can just pop them in the dishwasher and they'll come out completely clean. The non-stick surface requires that you not use harsh abrasives or metal tools, just as with most non-stick pans and appliances. The drip pan sometimes was a little tougher to clean since it doesn't have a non-stick surface, but still didn't present any major challenges. The only real difficulty with cleaning is that the reflective surfaces of the main grill body, and the exposed surfaces apart from the grate and drip pan, can't really be removed for cleaning. We imagine that over time, they might accumulate a bit of built-up cooking residue that could burn on. This can be cleaned off with a damp, soapy cloth or scraper, but it would be nice if all the exposed surfaces had an easy cleaning method, since the drip tray and grate aren't the only parts that get dirty.
Pros/Cons
First the good:
Pros: Items cooked exactly as we hoped, with nice-looking grill marks, really even heat, and easily-controlled doneness. The grill heats up and cooks fast, with easy setup and simple cleaning. It also fully delivered on the smokeless aspect, and the non-stick surface worked perfectly, both for cooking and for cleaning. And the price is definitely right. There are other brands selling almost identical grills for up to three times as much!
But we couldn't say it was Inverse Tested if we didn't find a few things we thought could be improved.
Cons: Our quibbles were minor, but we would have liked a slightly larger cooking area and the ability to adjust the heat in a continuous fashion instead of just the two available settings (very low temperature for warming and full power for all cooking). Even though it produced good results for most items and keeps things simple, the grill is advertised as having an "adjustable temperature range for customized BBQ grilling" and we think this is a little bit misleading. We also would have liked an easier way to clean the rest of the grill apart from the grate and drip pan.
Wish List: We had a couple of suggestions for future or upgraded models of the grill. One would be to include a griddle surface, so that you can cook items that do well on a flattop, such as eggs, pancakes, and other things that require a closed surface. The infrared technology worked so well that we wanted to cook more kinds of things on it. The other item that would have been nice is some kind of cover. While the smokeless aspect and the relative lack of spatter meant that we didn't need a lid to keep our kitchen tidy, the option of covering things would let us reproduce more of the various cooking methods that outdoor grills offer. A lid would also make the warming setting more effective without overcooking.
The Bottom Line
The Chefman Smokeless Electric Indoor Grill gave us a lot to like. Not only could we impress/taunt our less fortunate friends with a wide variety of out-of-season grilled treats, but we could do it quickly, safely, and without making much mess or smoke. It truly is like extending summer grilling season. And it doesn't cost much to get in on the fun. The grill is available on Amazon for just $99.99.