The $5.8 Million Reason Ted Cruz and Roy Blunt Didn't Ask About Cambridge Analytica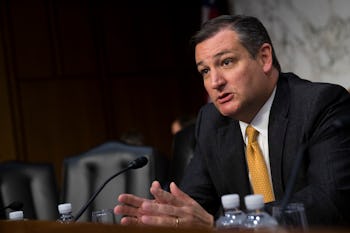 Drew Angerer/Getty Images News/Getty Images
Senators Ted Cruz and Roy Blunt both grilled Facebook CEO Mark Zuckerberg on Tuesday during his testimony, but they didn't touch on the ballooning Cambridge Analytica scandal — the reason Zuckerberg was on Capitol Hill — and it might have to do with the fact both their backers have done business with the data-selling firm.
According to campaign funding hub OpenSecrets, which uses Federal Elections Commission data to track political transactions, "Cruz for President" went deep with Cambridge Analytica: It spent $5,805,551 over 19 payments between July 2015 and June 2016. Meanwhile, Blunt's "Friends of Roy Blunt" spent $12,000 with Cambridge Analytica in October 2015. It's no wonder they didn't bring up Cambridge Analytica; they were paying customers. Cambridge Analytica, through a personality quiz it developed, sold the data of some 87 million Facebook users to political campaigns, so those campaigns could target ad spending on demographic groups. Essentially, anyone who took a personality quiz (or one of their Facebook friends) would, years later, have their data used without their knowledge by political campaigns.
Texas Senator and former presidential candidate Ted Cruz spent his four minutes going in on the culture war: He asked Zuckerberg about his assumption that Facebook is politically biased, referencing the 2016 Gizmodo report that interviewed several former Facebook "news curators" who were told to "inject" stories into a trending news column, even if they weren't trending. Bizarrely, he pulled out a deep cut later, asking about the firing of Palmer Luckey, whose Oculus VR technology was acquired by Facebook. Luckey was later found to be bankrolling pro-Trump memes. Zuckerberg wouldn't comment on the personnel matter.
Missouri Senator Roy Blunt spent his four minutes talking to Zuckerberg about his son's Instagram fascination before asking a series of questions about what Facebook users know and when they know it when they sign up. To put it generously, Blunt's questions were exploratory in nature. To put it another way, they were stupid questions used to fill time. Blunt seemed out of his depth as he asked about the concept of "bundled permissions" regarding Facebook terms of service, confusing Zuckerberg at least once.
Blunt only represents Missouri and Cruz's Cambridge Analytica spend might have been used on a national scale. However, it's still not clear in which states the most people were affected by the massive data breach. Facebook did break it down last week when it revealed that 81 percent of Facebook users affected are based in the United States. Minnesota Senator Amy Klobuchar asked Zuckerberg for a state-by-state breakdown, which he didn't have, but said Facebook would send that data to her office. A map will tell this story another way.
The full hearing is, of course, available on C-SPAN, and it's full of revealing questions from lawmakers who ask about Facebook, an increasingly large public square. Just don't look for any of those revealing questions from Cruz or Blunt.