Elon Musk Reveals When SpaceX Will Be Able to Send Humans Into Space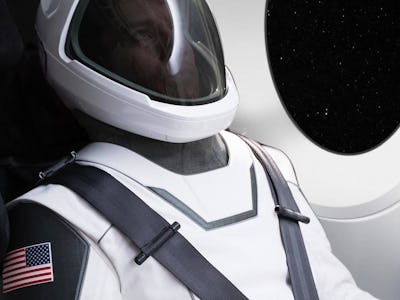 Elon Musk/Instagram
SpaceX is gearing up to send humans into space for the first time. On Monday, CEO Elon Musk confirmed a report that claimed NASA estimates the firm will be ready for people-carrying space adventures as early as April of next year. While a good sign for the company's Mars mission, a successful human test flight would also enable a new method of sending people to the International Space Station.
The goal is vital for NASA's future space station experiments. The agency ended its shuttle program in 2011 and now depends on third-party support to reach the station. NASA currently has a contract to use the Russian Soyuz spacecraft that expires on November 2019, and the agency plans to use Boeing or SpaceX to fill the gap. Last week, the agency announced it expects SpaceX to complete an uncrewed test flight in November 2018 followed by a crewed flight in April 2019. Musk confirmed the company will have the Crew Dragon capsule hardware ready to go by this date.
See more: NASA Unveils Its Dream Team of Astronauts for the First Commercial Flight
The agency announced last week the first astronauts that will fly to the space station, as the first American astronauts on board the commercial spacecraft. Robert Behnken, a former Air Force colonel, will join former Marine Corps colonel Douglas Hurley on the Crew Dragon test flight. For the first actual Crew Dragon mission, Victor Glover will undertake his first spaceflight alongside seasoned astronaut Michael Hopkins, who has spent 166 days aboard the space station.
Boeing's CST-100 Starliner capsule is expected to undergo an uncrewed test flight sometime later this year or early next year, with a crew test flight in the middle of 2019. The Starliner test flight will send former military personnel Eric Boe, Christopher Ferguson, and Nicole Aunapu Mann on a groundbreaking mission. The first full mission will send first-time astronaut Josh Cassada into space alongside Sunita Williams, who has spent 322 days aboard the space station.
The Crew Dragon missions will pave the way for SpaceX's more ambitious projects, like sending the first humans to Mars as early as 2024. SpaceX unveiled its futuristic spacesuit designed for these missions in August 2017.
Analysis suggests these two firms may struggle to plug the gap after the Soyuz contract expires. The Government Accountability Office warned last month that it's likely the firms won't receive full certification until a month or two after the end of the Soyuz flights.