Michael B. Jordan Anime 'gen:LOCK' Adds 'Doctor Who' Star David Tennant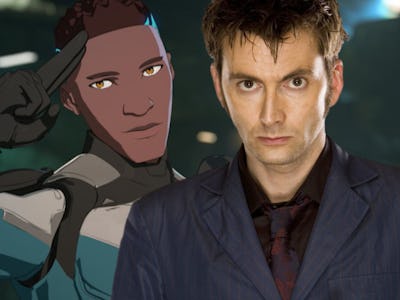 Rooster Teeth, BBC
The new Rooster Teeth anime series gen:LOCK needs a doctor. And it's getting one in the form of ex-Doctor Who star David Tennant.
At the Rooster Teeth panel during the Television Critics Association (TCA) on Friday, co-founder and Chief Creative Officer Burnie Burns announced that David Tennant has joined the cast of the studio's upcoming sci-fi anime series, slated to premiere January 2019 on the streaming platform FIRST.
Tennant joins previously announced actors Dakota Fanning, Kōichi Yamadera (Cowboy Bebop), and Michael B. Jordan, who voices the show's lead protagonist Chase and is also serving as co-producer on the series.
In gen:LOCK, the last remnants of mankind recruit a diverse team of pilots to control giant, sophisticated combat mechs in a desperate effort to end a catastrophic war. Tennant will voice a character named Dr. Rufus Weller, a scientist and inventor of the "gen:LOCK" technology.
"My jaw hit the floor when I directed David as Doctor Weller for the first time," said gen:LOCK showrunner and head of Rooster Teeth Animation, Gray G. Haddock. "He instantly nailed the breadth of emotion, both the humor and seriousness that Weller brings to the show — there are moments that will absolutely make the audience choke up."
Of course, one of Tennant's most famous roles was also a doctor. From 2005 until 2009, Tennant played the tenth iteration of The Doctor, the alien hero of the BBC sci-fi franchise Doctor Who.
Tennant is also no stranger to voice acting, having lent his distinct Scottish accent to cartoons like Teenage Mutant Ninja Turtles and Star Wars: The Clone Wars. He's currently voicing Scrooge McDuck in Disney's DuckTales reboot.
gen:LOCK is the second original anime series from Austin-based studio Rooster Teeth, which launched in 2003 after the success of its viral Halo parody Red Vs. Blue. In 2013, under the creative direction of the late digital animator Monty Oum, the studio launched RWBY, a fantasy action series about four girls who study to become monster hunters.
In an October 2017 interview with Inverse, Haddock said gen:LOCK intends to target "another broader audience," much in the same way that RWBY attracted a different audience outside of Halo fans.
"We're hoping that, much like RVB fans checked out RWBY and some of them stuck around for it, RWBY fans will check out gen:LOCK," Haddock said. "It might be their cup of tea, it might not for some of them. But hopefully gen:LOCK will also attract another broader audience that will be a little bit older who are big fans of science-fiction storytelling."
gen:LOCK will premiere in January 2019 on Rooster Teeth's FIRST.