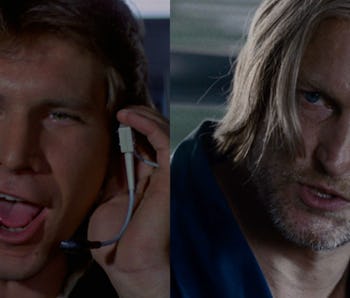 Entertainment
Woody Harrelson Didn't Want to Be Han Solo's Mentor
Lucasfilm, Lionsgate
There's no telling who Han Solo would have turned out to be without the guidance of Beckett, Woody Harrelson's mentor character in the upcoming as-yet-untitled Han Solo Star Wars film. While little is still known about Harrelson's part in the movie, he recently revealed that he almost didn't take the leap to hyperspace.
In an interview with The Hollywood Reporter Harrelson admitted to being coerced into the role. In fact, he turned down the opportunity to join the Star Wars franchise twice in a move similar to his turning down the role of Katniss' (Jennifer Lawrence) alcoholic mentor Haymitch in the Hunger Games series.
"I turned down Hunger Games twice," Harrelson said. "I didn't have any idea it would be that big, but I didn't think it was a good part. I was wrong. It was a terrific part, and it was a terrific thing, but thank God [director] Gary Ross called me. And [executive] Alli Shearmur, too. I turned [the Han Solo movie] down twice, too, and the same person, Alli, wouldn't take no for an answer."
Luckily, it seems the executives behind the Han Solo standalone are just as stubborn as the scruffy looking nerf herder himself.
The Han Solo standalone film is expected to premiere in theaters on May 25, 2018.