Watch the Founding Fathers' Descendants Gather in One Room
Ancestry.com flips the script on its previously controversial relationship with race and slavery in America.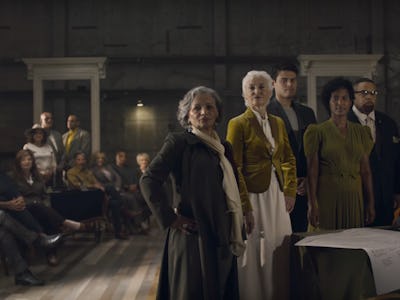 Ancestry.com
Ancestry.com, a site that allows users to outline and share their family tree, has been in a confounding situation regarding ethnicity for several years, and a new commercial demonstrates the company's intention to clarify its brand.
To serve as a background: In 2012, Jordan Peele and Keegan-Michael Key premiered a sketch on their Comedy Central show, Key and Peele, called "Ancestry Website." The sketch pointed out that white Americans' obsession with genealogy websites often ignored the concept that many black Americans trace their families back to slavery. In the Key and Peele fake commercial, all the black users of Ancestry.com proudly announce that their family tree reaches back to Thomas Jefferson, who had a sexual relationship with Sarah "Sally" Hemings, a woman whom his family owned as a slave.
Historians still aren't sure whether Jefferson and Hemings were in a romantic relationship, or if Jefferson was exploiting his family's slave further by sexually assaulting her, but reports estimate that Hemings had as many as six children who were biologically fathered by Jefferson. In her 2008 book on Hemings's mother, historian Annette Gordon-Reed says, "Understanding the path of Elizabeth Hemings's life requires some consideration of the contours of the community into which she was born, an elastic place with boundaries that expanded, contracted, shifted, and evolved over time." The fact that living Americans descended from relationships between our white Founding Fathers and women of color is, as Gordon-Reed argues, insanely complicated.
Though Ancestry.com didn't comment on Key and Peele's satirical take back in 2012, the website's new commercial takes one of its perceived blind spots — that tracing one's genealogy often leads to disturbing revelations, especially if you're a black American — and attempts to spin it toward a message of diversity. In the Key and Peele sketch, the object of the joke is Ancestry.com. In Ancestry's ad, the implied butt of the joke is white supremacy.
In honor of Independence Day, Ancestry gathers living descendants of the white men who signed the Declaration of Independence together. Ancestry calls them "an ensemble of 29 living descendants of the Declaration's 56 signers – men, women and children from different ethnicities, life experiences and geographies." Many of the subjects in the ad are women and children of color, and together they recite the American rights, which were ironically not extended to them when the document was initially signed.
Though it's admittedly moving to watch a diverse group of people describe being united under one national banner — one is reminded of the latest music video from the Hamilton Mixtape in which immigrants to the United States rap about building the country thanklessly — the ad's emotional effect is dampened a bit by the fact that it's, well, an advertisement for a paid service. Of course, that paid service does connect people of all ethnicities to their lineage, which, regardless of outcome, can be an emotional and personally cathartic process.
Even putting aside that skepticism, its central message is still steeped in a lot of complication. It's impossible to watch the ad and completely forget that American history has been systematically cruel to people of color. On the other hand, members of what's now called the Jefferson-Hemings lineage (or just the Hemings lineage) have met up in assumedly complex reunions.
One could even argue that because so many of the Founding Fathers owned slaves, Ancestry.com's current depiction of their lineage is not the America they planned for, or even wanted. An ethnically diverse America, however, is the one we are have and are better for. At the very least, Ancestry's ad seems to make that clear.
You can "meet" the descendants in a downloadable PDF, which we've reproduced below.
See also: An Iceland Genealogist Connects President Donald Trump to an Infamous Viking From History