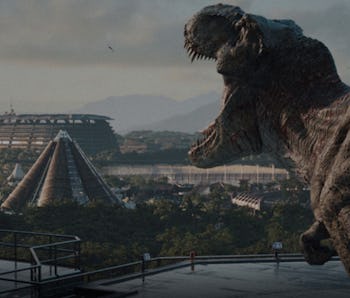 Entertainment
The 'Jurassic World' Sequel Has a Title: 'Fallen Kingdom'
Universal
In Latin, "rex" translates to "king," but in the new title for the Jurassic World sequel, the reign of the dinosaurs is over — again. On Thursday morning, Universal Studios revealed the official title for Jurassic World 2, now titled Jurassic World: Fallen Kingdom. It also announced a release date of June 22, 2018, exactly one year from the announcement date.
Although amusingly vague, the subtitle Fallen Kingdom, coupled with the first official photo released back in March, suggests that the next chapter of Universal's franchise (coincidentally about the dangers of excessive capitalism) is in an ominously dull place. In these movies, dinosaurs are alive for entertainment, but in Fallen Kingdom their place looks like the dinosaurs of our real world: dead, and in museums. Long live the king, I guess.
On top of the new title and release date, the teaser poster for Jurassic World: Fallen Kingdom comes with the tag, "life finds a way," referencing Jeff Goldblum's line from Steven Spielberg's classic 1993 film. In recent years, the line has found new life on the internet as a meme, and it just so happens that Jeff Goldblum will return as Dr. Ian Malcolm in Fallen Kingdom. So, it's a bit weird but also amusing that Universal is openly embracing it as part of its marketing.
You can see the poster for Jurassic World: Fallen Kingdom below.
Jurassic World: Fallen Kingdom stomps into theaters on June 22, 2018.