The Kids of 'Riverdale' Are Charmingly Down With O.P.P.
Imagine a world where we all love, fuck, and support each other like Archie, Betty, and Veronica can.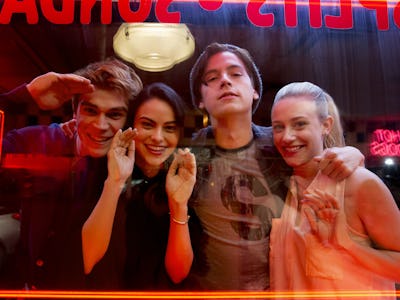 The CW, The Hollywood Reporter
Riverdale, a new teen soap based loosely on Archie comics, already fits organically into The CW's steamy lineup. The network has nestled it among other shows that glamorize teen sexuality, like Pretty Little Liars and The Vampire Diaries. However, Riverdale wastes no time in differentiating itself from The CW's glossy, heteronormative shows. Though only one character, Kevin, identifies as queer, it's clear that Betty (Lilli Reinhart), Veronica (Camila Mendes), and Archie (KJ Apa) are embarking on a romantic and sexual triad.
Instead of pitting Betty and Veronica against each other as sexual rivals for Archie, Riverdale capitalizes on the unspoken idea throbbing at the center of Archie comics: Some people are capable of experiencing overlapping sexual, romantic, and platonic emotions for each other in relationships that involve more than two people. The result is a glowing, deeply watchable case for polyamory.
In the pilot episode, we watch Betty and Veronica kiss, Archie and Veronica kiss, and Betty and Archie negotiate their chemistry tearfully. After Betty and Veronica figure out their feelings for Archie are different (one romantic, one sexual), they ask him to a school dance as a unit. Without much discussion of whether that's an unusual set-up, Archie accepts, and the night goes well.
All of these romantic pairings between the show's leads are framed in soft focus, with similar, strings-heavy scores running underneath them. Riverdale does all it can to equate Betty and Veronica's mutual attraction to the feelings exchanged between Archie and both of the girls. Betty and Veronica aren't played for laughs, and when they get their first kiss out of the way, Cheryl Blossom dismisses the idea that their lesbian attraction is taboo. Riverdale confirms the sexual tension that has followed Betty and Veronica through decades of comics, but it doesn't linger there long. B and V, as Jughead calls them, share a connection both informed by their mutual love for Archie and uncomplicated by it.
We learn over time that the trio's dynamic involves minor conflicts, but that open communication between Betty, Veronica, and Archie will always smooth them over. Archie and Veronica pursue other, temporary partners outside the triad, and Betty encourages them while still expecting regular attention from both of them. Radically, juggling the expectations of multiple, committed but not monogamous seems possible in Riverdale's world.
Veronica takes on a dominant role in the triad almost immediately, but she seems charmed by Betty and Archie's shared innocence. When Betty ramps up her sexual performance to match Veronica's, we see something like curiosity register on Veronica's face. The moment recalls Veronica playing it fast and loose with kissing Betty in public in the pilot, and it's suggested that something else might unfold in the future.
The most surprising thing Riverdale does, however, is anchor its story in this ethically non-monogamous triad without making it the sole source of the show's drama. By cementing its love triangle immediately, the show is able to stretch its examination of adolescent sexuality with episodic romantic storylines, featuring characters like Chuck, Ethel, and Ms. Grundy. Chuck, a sexist football player, appears in episode 3, and through his gaze, we learn more about how Betty and Veronica perceive each other. In just three episodes, the girls have already learned to express their sexuality in tandem with each other—not as rivals, but as partners in crime.
So why does Riverdale matter, in a TV landscape where teen sexuality is commonplace, or even played out? Sure, it's campy, but these kids are allowed to explore each other with more freedom typically afforded to leads on The CW. Attraction doesn't link them inseparably to their partners, which suggests a new narrative to the show's teen viewers: sex isn't a promise, but that doesn't make it any more enjoyable.
Riverdale airs on The CW on Thursdays.