Did Phil Lord Just Reveal Which Movie Influenced His Han Solo Film?
Is Han Solo going to get himself into a Catch-22?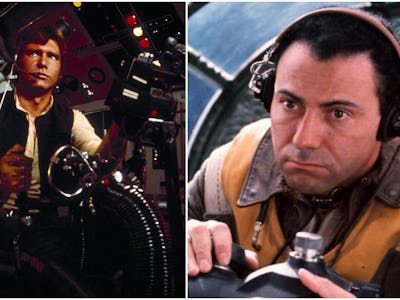 StarWars.com
With a simple tweet, we now know filming has begun on the standalone Han Solo movie under the tutelage of co-directors Phil Lord and Chris Miller. But some more tweets by Lord might indicate what his Star Wars movie will look and feel like.
Late last year the film's director of photography, Academy Award nominee Bradford Young, told Uproxx that Lord and Miller sold him on joining the project by referencing specific films that they used as inspiration in planning out the Han Solo movie.
"They referenced the right films in the American film lexicon that really touched me in a real tender place," Young told Uproxx. "And they mentioned some films that I don't think they knew I had such a really emotional attachment to — and there's one in particular and I'm not going to give it up because it would just tell everything."
The specific film hasn't been mentioned yet, but Lord just tweeted a pair of photos from filmmaker Mike Nichols's 1970 adaptation of author Joseph Heller's Catch-22. Is it a coincidence that he tweeted these out on the same day as the start of principal photography? Is he just a big Alan Arkin fan? Does it mean something!? Yes and no, probably.
The satirical anti-war novel might be a bit of a stretch as an influence on a rousing space adventure. But the darkly comedic approach and the flyboy-type aesthetic of Arkin's Captain Yossarian reluctantly going on countless daring air raids from a fictional Meditteranean airbase could line up nicely with Han's militaristic origin story.
Director Rian Johnson cited a wide range of movies that inspired The Last Jedi, including the 1949 Gregory Peck war film Twelve O'Clock High, the thrilling samurai film Three Outlaw Samurai, and Alfred Hitchcock's To Catch a Thief. So why not throw Catch-22 into the mix for the Han Solo movie?
Details on the second non-episodic Star Wars movie are scarce. We know it will be an origin story that involves Han (Alden Ehrenreich), Chewie, and Lando (Donald Glover). We also know that Woody Harrelson will play an as-yet-unnamed mentor character to Han (who will probably end up being Expanded Universe character Garris Shrike), and Game of Thrones all-star Emilia Clarke is playing the as-yet-unnamed female lead.
That's about all we know, but in the meantime we can all watch Catch-22 and keep speculating. Lord and Miller's Han Solo movie is scheduled to hit theaters in May 2018.