The 9 Most Anticipated Fantasy Books of 2017
From old favorites like V.E. Schwab to debut authors like Vic James, here's the year in fantasy.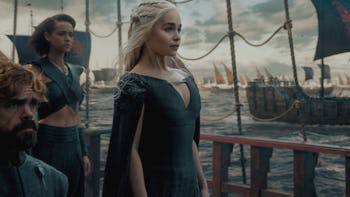 HBO 
As 2017 approaches, the real world has become a precarious place. Societally and environmentally, the world is at a turning point, and nobody knows exactly how Brexit or a Trump presidency will upend the global culture. At times like this, fantasy is more important than ever to help us make sense of it all. Luckily, 2017 brings a host of intriguing fantasy novels, from debut authors to new entries in long-running series. From goblins to battlefields and magic or space, here's what to look to the horizon for.
1. Gilded Cage by Vic James
Gilded Cage is is Downton Abbey meets X-Men meets Jonathan Strange and Mr. Norrell. Like the latter, it's set in an alternate version of London where magic exists out in the open, but not everyone is born possessing it. Those who do are ironically called Equals and make up the aristocratic ruling class. Those who don't are obligated to spend a decade of their life serving the Equals as slaves. The story is centered around a family that enters their slave years together, divided between a manor house and a slave town. Class warfare and magic ensue. It's a rare fantasy book that feels like it isn't as long as it should be — but luckily it's the first in a new series.
Release date: February 14, 2017.
2. Strange the Dreamer by Laini Taylor
Laini Taylor's Daughter of Smoke and Bone series is richly imaginative, filled with lush imagery, dreamy prose, mythology, and winding Eastern European streets. If you liked her trilogy, it's enough to know that she has a new book coming out. If Daughter of Smoke and Bone sounded intriguing but you don't have time for a trilogy, she's got new book coming out that is also concerned with mythology and cities and gods and monsters.
Release date: March 28, 2017
3. A Conjuring of Light by V.E. Schwab
V.E. Schwab's fantasy is not afraid to get dark and strange and filled with monsters, as Schwab has a masters in the study of monsters. The third and final book in her Shades of Magic series is a can't-miss read in 2017.
Release date: February 21, 2017.
4. Skullsworn by Brian Staveley
Brian Staveley's Chronicle of the Uphewn Throne series is a Game of Thrones esque epic filled with assassins, layered politics, and fascinating and lethal religious orders. His new book is a standalone story about a would-be assassin priestess with love problems, set in the same universe.
Release date: April 25, 2017.
5. The Stone Sky by N.K. Jemisin
N.K. Jemisin's The Fifth Season rightfully won the Hugo Award for its hypnotic and unique blend of sci-fi and fantasy. The third entry in her Broken Earth series is out later in the year.
Release Date: August 15, 2017
6. Iron Gold by Pierce Brown
Pierce Brown's Red Rising trilogy was an adrenaline-fueled blend of space opera and fantasy. Although it came to a close with Morning Star, it's getting a new spin-off series that kicks off this year.
Release date: August 22, 2017.
7. Empress of a Thousand Skies by Rhoda Belleza
Another book from a debut author, this is intergalactic space opera Game of Thrones with a diverse cast and a kick-ass female protagonist.
Release date: February 7, 2017.
8. A Gathering of Ravens by Scott Oden
Scott Oden seamlessly fuses fantasy with historical fiction. This weaves together English, Irish, and Danish mythology into a bloody adventure story that is magically not bloated, all set in the Viking era.
Release date: June 20, 2017
9. Wintersong by S. Jae-Jones
A Hades and Persephone-like fairytale involving goblins? Sign us up.
10. The Winds of Winter by George R.R. Martin
Just kidding, keep dreaming of spring before this book finally arrives.