The 5 Best iPhone Apps for Organizing Your Life in Fall 2016
Your phone's good for more than games.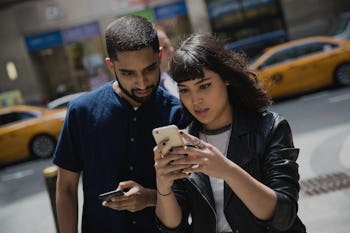 Getty Images / Drew Angerer
The iPhone gets a bad rap. Too often it's dismissed as a source of entertainment, an expensive plaything that turns its owners into children. But that doesn't have to be the case: Smartphones exist because people wanted to be able to email, browse the Web, and handle their other responsibilities without a computer. The iPhone, in other words, could be the perfect device for learning how to actually be a functioning adult.
All you have to do is find the right software — and we're here to help. "Adulting" can be a difficult process, what with all the multitasking and taking care of actual responsibilities. To help you out with all of that, here are five of the best under-appreciated apps for handling life like an adult. They'll let you be more productive, save a little money, and, paradoxically, help you put down your phone. Heck, they'll even teach you to meditate.
2Do
Adults handle their responsibilities, and 2Do ($14.99) makes it easier than ever to keep track of everything you need to do get done. It's the most versatile task manager you'll ever use: It supports location-based reminders, custom filters, and more. All you have to do is let 2Do know what you need to accomplish and let the app handle the rest.
Headspace
Life isn't just about getting things done — it's also about making sure you can enjoy the fruits of your labor. Headspace (Free / $13 per month) guides you through meditations in a way that's both simple and flexible. The app can lead to calmer emotions, better focus, and maybe even lucid dreams when used regularly.
Digit
Apps, like a ticket to Mars, require money. Not nearly as much — SpaceX will charge $200,000 for a trip to the red planet — but enough that you might think twice about downloading them. Digit helps by using A.I. to figure out how much you can save, then automatically putting that money in a savings account.
Forest
Adults don't spend every waking moment on their phones. Forest ($1.99) grows virtual trees when you put down your iPhone. There's no penalty for picking up your phone, but having a reminder that it's time to leave the gadget on the table for a while might be the push you need.
MyFitnessPal
Being an adult means you can have candy for dinner; acting like an adult means you'll choke down some asparagus instead. MyFitnessPal (Free / $10 per month premium) is here to help make sure you eat the right stuff — or at least realize how poorly you eat now. It also lets you record exercise, water consumption, and basically everything else.
Until devices that zap you to make healthy food taste good or pills that help you work out are released, MyFitnessPal is your new best friend.
Bonus: Bedtime
That's meaningless if you don't get enough sleep, which is why Bedtime, the iOS 10's best feature loved by many people despite how "shamey" it can be, helps you go to bed at a reasonable hour. It isn't for everyone — some might prefer more detailed analysis, for example — but it's worth a shot. You're an adult, and that means you've earned a little sleep.