Talking Sex Robots With Warm Genitals Will Be on Sale Next Year
They'll cost about $15,000 and, presumably, a little bit of your dignity.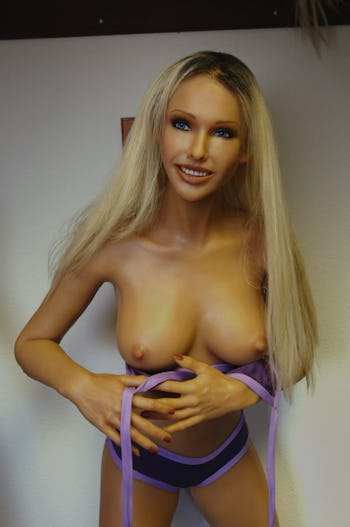 Getty Images / David McNew
A trip to Westworld costs $40,000 a day, but by next year, you'll be able to simulate at least part of the experience for less than half that price, because a new line of upsettingly realistic sex robots is going to hit the market. They might not have cowboy hats by default, but they do have warm genitals.
Writing in The Daily Mail, robotics expert David Levy predicted that sex robots with the ability to talk and respond to touch will be commercially available in 2017.
"This coming wave of sex robots will be human-like in appearance and size," He wrote. "They will have human-like genitals. And they will allow intercourse according to their owner's sexual orientation and tastes."
According to Levy, the first wave of these new sex robots will resemble RealDolls — realistic silicon dolls created by a company in California — but with more "functionality." (The quotes around "functionality" were present in Levy's original writing, so make of that what you will). However, they'll soon advance far beyond that.
For $15,000, Levy says users will be able to buy sex robots with synthetic skin embedded with electronic sensors allowing them to respond to touch, the ability to talk back in a "sexy voice," and heating elements so that they'll be warm … all over.
Abyss Creations, which makes RealDolls, is supposedly at the forefront of this field, though there are numerous Asian companies making major advances of their own. Matt McMullen, the founder and CEO of Abyss Creations said his vision for the future of sex robots involved emotional attachment.
"I want to have people actually develop an emotional attachment to not only the robot but the actual character behind it," McMullen said. "To develop some kind of love for this being."
Of course, that's complicated. Can a robot consent — or does it even matter? We may find out firsthand in less than a year.
"I've no doubt some will find it creepy, but we can be clear on this: The arrival of sexually responsive robots will have enormous consequences," Levy said.