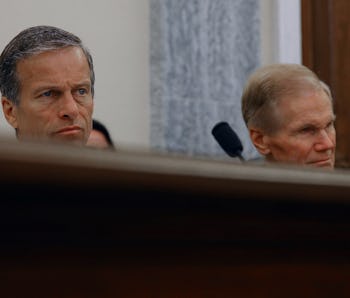 Innovation
Does Facebook Suppress Conservative News? The Senate Wants to Find Out
Does the social network really editorialize? Can the senate do anything if so?
Getty Images
After Monday's allegations that Facebook "routinely suppressed news stories of interest to conservative readers," as Gizmodo's Michael Nunez reported, the U.S. Grand Old Party wasted no time in broaching the subject.
Today, the U.S. Senate Committee on Commerce, Science, and Transportation sent an open letter to Facebook CEO Mark Zuckerberg.
South Dakota Senator John Thune penned the letter. "If true," he wrote, "these allegations compromise Facebook's 'open culture' and mission to 'make the world more open and connected.'" In addition, Thune continues, if these allegations are true, then "Facebook's assertion that it maintains a 'platform for people and perspectives from across the political spectrum' misleads the public."
Thune went on to ask Zuckerberg five pertinent questions, which all seek more information on what Facebook's policies were and whether they indeed manipulated the social network's Trending news section. The questions are as follows:
1) Please describe Facebook's organization structure for the Trending Topics feature, and the steps for determining included topics. Who is ultimately responsible for approving its content?
2) Have Facebook news curators in fact manipulated the content of the Trending Topics section, either by targeting news stories related to conservative views for exclusion or by injecting non-trending content?
3) What steps is Facebook taking to investigate claims of politically motivated manipulation of news stories in the Trending Topics section? If such claims are substantiated, what steps will Facebook take to hold the responsible individuals accountable?
4) In a statement responding to the allegations, Facebook has claimed to have 'rigorous guidelines in place for the review team' to prevent 'the suppression of political perspectives' or the 'prioritization of one viewpoint over another or one news outlet over another.'
a. When did Facebook first introduce these guidelines?
b. Please provide a copy of these guidelines, as well as any changes or amendments since January 2014.
c. Does Facebook provide training for its employees related to these guidelines? If so, describe what the training consists of, as well as its frequency.
d. How does Facebook determine compliance with these guidelines? Does it conduct audits? If so, how often? What steps are taken when a violation occurs?
5) Does Facebook maintain a record of curators' decisions to inject a story into the Trending Topics section or target a story for removal? If such a record is not maintained, can such decisions be reconstructed or determined based on an analysis of the Trending Topics product?
a. If so, how many stories have curators excluded that represented conservative viewpoints or topics of interest to conservatives? How many stories did curators inject that were not, in fact, trending?
b. Please provide a list of all news stories removed from or injected into the Trending Topics section since January 2014.
Despite the fact that Facebook did indeed mislead its users — there was no indication that the Trending Topics section was anything but an unbiased algorithm reporting on actually trending topics — it's well within Facebook's rights, as a private company, to so editorialize. We're accustomed to so-called news outlets — TV channels — reporting hand-picked, biasing stories, but we have come to expect that these outlets function in this way. The thought that Facebook, which purports to be a neutral social network, engages in similar behavior offends innocent ears — especially if those ears are conservatively tuned.
The letter, which can be read in full below, concludes with a politely-worded demand that Mark Zuckerberg respond "no later than May 24, 2016."